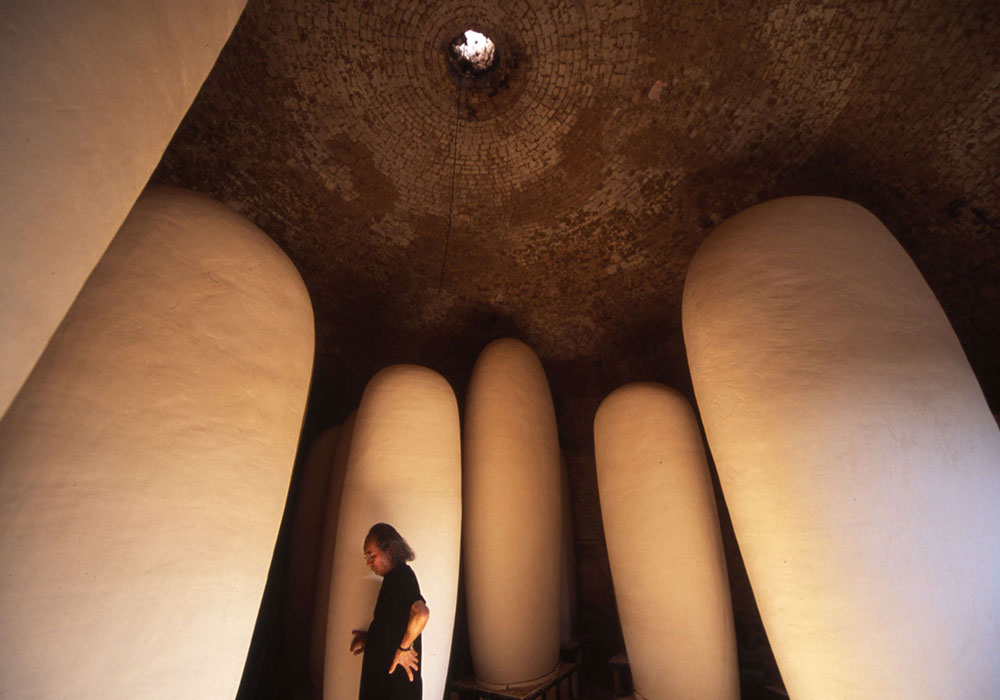 By 2010, Jun Kaneko found himself the creator of over 6,000 artworks, designer of three opera productions, having achieved forty public commissions, annually exhibiting in multiple museum and gallery exhibitions, joining numerous public and private collections, and co-founder and board member of the Bemis Center for Contemporary Arts and KANEKO. Along the way, he meticulously generated copious documentation of his regular studio practice and special undertakings. Jun and Ree Kaneko decided to establish a foundation to ensure their lives' work could be experienced and studied in perpetuity.
Originally called Enjo (Japanese for "support" or "assistance"), the foundation was bestowed with the purpose of supporting KANEKO in its mission by, first, establishing and maintaining a permanent collection of Jun Kaneko's artworks and archives as a major programming and education resource, second, to establish a generous endowment to support those ends and, third, providing ample facilities for the collection and KANEKO's programming.
Its Collection of over 1,400 artworks is personally curated by the artist to represent pivotal points from throughout his career and important pieces by other influential artists from his and Ree Kaneko's personal collection. The extensive archive contains rich documentation of his personal history, professional career, and prolific studio practice. Its facility encompasses three sensitively renovated rare historic Omaha warehouses and its endowment provides for stewardship of the collection and archive and development of related curatorial, educational, internship, and residency programs.
In 2017, KANEKO launched its capital campaign to raise $30 million for the permanent collection building. The building was designed by architect Mark Mack with Omaha-based HDR as the executive architectural firm. The Collection Building will be located adjacent to KANEKO and serve as the heart of its campus and operations. Within this building, the collection and archives will be preserved and exhibited, organized for loan to traveling exhibitions, and made available for scholarship and education.
Enjo became known as the Ree & Jun Kaneko Foundation in 2020, honoring the collective work and contributions of these remarkable individuals. The Foundation and KANEKO will ensure the stewardship of the Kanekos' extraordinary creative contributions in perpetuity.